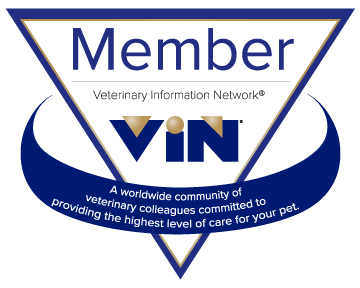 This hospital is a member of VIN, the Veterinary Information Network®, because we choose to provide the best current health care available for your pet.
The doctors at Northview Animal Hospital are proud members of the Veterinary Information Network (VIN) because we are committed to providing the highest level of care with the most current information available.
VIN was established in 1991 by two veterinarians as an online community to unite veterinarians around the world, sharing knowledge, ideas, and information. VIN is in many ways the world's largest "group veterinary practice."
VIN members have access to the most comprehensive searchable source for veterinary information. We can also get input on medical cases from specialists and colleagues in and every field of veterinary medicine. This means extra help for your pets when they need it is always just a few clicks away.
VIN also provides great, advertising free information for you about your pets' conditions and care at
VeterinaryPartner.com
and
VetzInsight.com
Our VIN membership allows us to keep up with the latest developments in veterinary medicine and is one very important element of our commitment to provide the best, most relevant, and up-to-date care for your pet.